Email marketing has become integral part of successful marketing strategy. It allows businesses to directly connect with target audiences, build relationships and promote their products or services effectively. One of the popular email marketing platforms is SendGrid known for its robust automation and deliverability features. However there are various SendGrid alternative SMTP Service Provider available in the market that offer similar functionalities and may be better suited for business needs.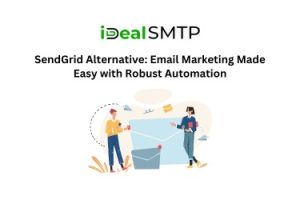 Check out our best Prices:-
Understanding Importance of Email Marketing
Email marketing still one of the most cost-effective forms of digital marketing. It provides businesses with direct line of communication with their customers enabling personalized messages, promotions and updates. Email marketing with SendGrid alternative allows companies to measure campaign effectiveness through open rates, click-through rates and conversions.
SendGrid: A Powerful Email Marketing Solution
SendGrid is an email delivery platform in the cloud for businesses that want to send transactional or marketing emails. It offers features like email templates, A/B testing, analytics and advanced reporting. The platforms robust API with SMTP Relay Services integration makes it popular choice of developers and marketers.
Exploring SendGrid Alternatives
While SendGrid is a powerful tool, it may not be the best fit for every business. Let's explore some of the top SendGrid alternatives and their unique offerings:
Mailchimp
Mailchimp is user-friendly email marketing platform suitable for businesses of all sizes. It provides wide range of pre-designed templates, automation workflows and detailed analytics. With its intuitive interface even beginners can create compelling email campaigns.
iDealSMTP
iDealSMTP emerges as a compelling SendGrid alternative, offering a robust and efficient email marketing solution. With its user-friendly interface and advanced features, iDealSMTP provides businesses with a powerful platform to connect with their target audience effectively. This platform is tailored to meet the diverse needs of businesses of all sizes, from startups to established enterprises. iDealSMTP ensures high deliverability rates, allowing emails to reach the recipients' inboxes promptly. Its automation capabilities streamline the process of creating personalized and timely email campaigns, enabling businesses to engage their customers with relevant content. Moreover, the platform prioritizes data security, adhering to strict data protection regulations to safeguard subscribers' information. Whether you are a small business or an eCommerce giant, iDealSMTP's scalable infrastructure caters to your expanding email marketing requirements. With its competitive pricing and excellent customer support, iDealSMTP stands as a reliable and efficient choice for businesses seeking a SendGrid alternative to enhance their email marketing strategies.
AWeber
AWeber is a reliable email marketing platform known for its excellent deliverability rates. It offer features like autoresponders sign-up forms and wide range of integrations. AWeber is an ideal choice for small businesses and entrepreneurs.
Digitalaka
Digitalaka is a feature-rich alternative to SendGrid, offering powerful email marketing solutions for businesses of all sizes. With a user-friendly interface and a wide range of functionalities, Digitalaka empowers marketers to create engaging and personalized email campaigns effortlessly. The platform boasts advanced automation capabilities, allowing users to set up automated workflows for seamless customer communication and engagement. From pre-designed email templates to in-depth analytics, Digitalaka provides a comprehensive toolkit to optimize email marketing performance. Its high deliverability rates ensure that messages reach the intended recipients' inboxes effectively. Buy SMTP Server Digitalaka offers competitive pricing plans, making it an attractive choice for startups and established enterprises alike. As businesses seek effective alternatives to SendGrid Digitalaka stands out as reliable and efficient solution enabling marketers to take email marketing strategies to new heights.
GetResponse
GetResponse is SendGrid Alternative with an all-in-one marketing platform that includes email marketing, landing pages, webinars and more. Its marketing automation capability makes it powerful tool for marketing campaigns.
SMTPget
SMTPget is a robust and feature-rich alternative to SendGrid, offering powerful email marketing solutions to businesses of all sizes. With SMTPget, you can easily create and manage email campaigns with its easy-to-use interface and powerful automation features. Designed to ensure high deliverability rates, SMTPget helps businesses reach their target audience's inbox efficiently. It provides a wide range of customizable email templates, A/B testing options, and detailed analytics to optimize email performance. SMTPget offers seamless integrations with other marketing tools and platforms, enhancing its overall functionality. Whether you are a startup, a small business, or a large enterprise, SMTPget equips you with the tools needed to engage your customers, build lasting relationships, and drive business growth through successful email marketing strategies.
ConvertKit
ConvertKit is a SendGrid Alternative that caters primarily to content creators and bloggers. It offers easy-to-use automation features, subscriber tagging, and segmenting, making it simple to deliver targeted content to specific audiences.
ActiveCampaign
ActiveCampaign is an alternative to SendGrid with a marketing automation platform that goes beyond email marketing. It offers CRM functionality, sales automation, and advanced email personalization, making it suitable for businesses looking for a holistic marketing solution.
Campaign Monitor
Campaign Monitor provides visually appealing email templates, automation workflows and detailed reporting. An excellent choice for agencies and businesses who are looking to create professional email campaigns.
MailerLite
MailerLite is known for its user-friendly interface and competitive pricing. It offers automation, landing pages and pop-up forms making it excellent option for businesses and startups.
Drip
Drip is an eCommerce-focused, SendGrid alternative email marketing platform that provide robust automation features customer segmentation and personalized product recommendations.
Constant Contact
Constant Contact offers a wide range of email templates, event management features, and social media integrations. It is a reliable option for businesses seeking event-driven marketing campaigns.
HubSpot
HubSpot offers comprehensive suite of marketing tools including email marketing, CRM and content management. It is an ideal choice for businesses looking all-in-one marketing platform.
Benchmark Email
Benchmark is a SendGrid alternative, Email provides automation features, list management, and customizable signup forms. It is suitable for businesses seeking a budget-friendly email marketing solution.
Omnisend
Omnisend is a platform designed for eCommerce businesses, offering features like cart recovery emails, automation workflows, and SMS marketing.
Moosend
SendGrid Alternative Moosend known for its user-friendly interface, automation capabilities and 24/7 customer support. It is suitable for businesses of all sizes.
Keap
Keap, formerly known as Infusionsoft is alternatives to SendGrid and is a CRM with built-in email marketing automation. It caters to small businesses and allows seamless management of leads and customers.
Sendinblue
Sendinblue is a SendGrid alternative that offers a robust free plan and includes email marketing, SMS marketing, and live chat features. It is an excellent choice for businesses with multi-channel marketing needs.
Factors to Consider When Choosing an SendGrid alternative Email Marketing Platform
When evaluating SendGrid alternatives or any email marketing platform, consider the following factors to make an informed decision:
Features and Functionality
Assess the range of features offered, such as email templates, automation, A/B testing, and reporting.
Ease of Use
Look for platforms with intuitive interfaces and user-friendly tools to streamline your email marketing efforts.
Automation Capabilities
Check the level of automation offered to create personalized and timely email campaigns.
Pricing
Compare pricing plans and ensure the platform aligns with your budget and business needs.
Deliverability Rates
High deliverability rates ensure that your emails reach your audience's inbox effectively.
Customer Support
Good customer support is essential for addressing any issues promptly.
Integrations
Ensure the platform integrates smoothly with other tools you use.
Scalability
Choose a SendGrid Alternatives platform that can grow with your business and accommodate your increasing email marketing demands.
Data Security
SMTP relay service provider ensures the platform adheres to data protection regulations to safeguard your subscribers' information.
User Reviews and Testimonials
Check out what other people have to say about the platform and how satisfied they are with it.
Conclusion
Selecting the right alternatives to SendGrid email marketing platform is important for the success of your marketing campaigns. Exploring SendGrid alternative can lead to a better fit for your specific needs. Consider the outlined factors and compare the top alternatives to make an informed decision. Whichever platform you choose, remember to focus on engaging content, personalization, and data-driven strategies for successful email marketing campaigns.