To increase sales and keep current customers coming back, businesses spend a ton of money on email and social media marketing. Cold emailing, on the other hand, is still one of the most significant acquisition methods for both retailing and tech companies when it comes to acquiring new consumers. Cold email services are the best way to reach out to new customers and the same SMTP Server For Bulk Emails also helps you to connect with new customers.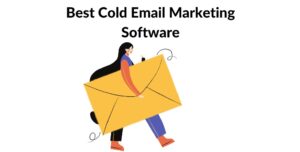 A successful cold emailing campaign may boost sales and provide a fantastic return on investment.
What Is Cold Emailing?
The many Bulk Email Service Provider wanted mail sent to a recipient with prior contact is cold emailing. Companies usually utilize it to communicate with customers who might be interested in the product or services. Cold emails aren't always regarded as spam, and companies that do it correctly target specific consumers who are genuinely interested in their products. The trick to cold email sending service is to select the correct people and deliver genuine value in your emails. Spamming occurs when a firm or an individual decides to flood a target with irrelevant and undesirable content. Cold emailing is essentially an ad that the recipient can opt out of at any time to avoid receiving such emails in the long term. Cold emailing can be tedious since marketers must constantly copy and paste, and complex email software will come in very handy.
Do You Know How to do email marketing services for small business?
The Top 11 Cold Email Software 
1. SmartReach
SmartReach is one of the finest cold email software. It is the perfect answer for expert users seeking a feature-rich solution for a Cold email campaign. Because of enhanced hyper-personalization and Smart scheduling, you may send emails in your prospect's timezone; your emails will have a greater chance of achieving a response.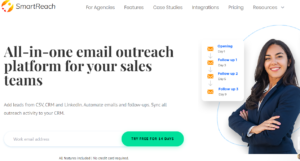 SmartReach.io works with  Mailgun, GSuite, Outlook, Office365, and SendGrid, among other email clients. It focuses heavily on email deliverability and includes list spam, warm-ups, and test cleaning (email validation). Its team-centric features, such as Role-based permissions, Group level settings, and an Agency dashboard to see and manage numerous clients, make it perfect for larger teams through the top Email marketing companies.
Pricing –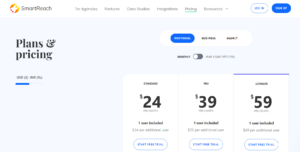 standard Plan – $24 per month/ user

Ultimate plan – //459 per month/user
2. Ideal SMTP
IdealSMTP offers their valued customers one of the best SMTP Server for bulk emails available they offer the best SMTP service, a simple mail transfer protocol that allows you to send out many emails at once. Their protocol service is highly secure and safe for users. Idealsmtp provides Bulk email services for one of the best Server for cold email marketing services. They distinguish themselves by maintaining a high level.

1. SPF and DKIM Records – Antispam measures such as SPF, DKIM, and DMARC are vital. They are necessary to verify the server's authenticity and to demonstrate to ISPs, mail services, and other receiving mail servers where you are permitted to send mass emails.
2. Anytime Access -All you need is an internet connection to send emails from anywhere and at any time using their service.
3. Management of Spam – They also help their clients with spam management and IP rotation, both of which are critical to the success of your email marketing.
4. Dedicated Internet Protocol (IP) -With their SMTP Server services, you may gain more control over your IP reputation.
5. White labeling – You may utilize the server to give services to your clients if you are an agency or service provider. They've been supplying high-quality white-label services to a number of businesses.
6. High-Speed Delivery – SMTP allows you to send many emails in a short amount of time, saving you time and allowing you to focus on more important tasks.
Pricing –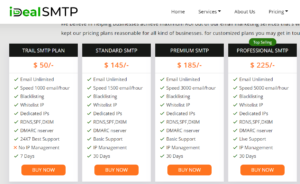 Trail SMTP plan – The pricing of this plan is $50.The duration of this plan is for 7 days for which you get -Email Unlimited, Speed 1000 email/hour, Blacklisting, Whitelist IP, Dedicated IPs, RDNS, SPF, DKIM, DMARC server, 24X7 Best Support

Standard SMTP plan – The pricing of this plan is $140. This is for 30 days, and you get – Email Unlimited, Speed 1500 email/hour, Blacklisting, Whitelist IP, Dedicated IPs, RDNS, SPF, DKIM, DMARC server, Basic Support, and IP management.

Professional SMTP plan – The pricing of this plan is $225. This plan lasts for 30 days, and you get – Email Unlimited, Speed 5000email/hour, Blacklisting, Whitelist 

IP, Dedicated IPs, RDNS, SPF, DKIM, DMARC server, Live Support, and IP management.

Scale your small business with the best

SMTP Server Prices

.
3. Snov
Snov is yet another popular and finest cold emailing software with an easy-to-use UI and robust functionality. Snov enables you to retain time by automating your email marketing. You can also get the Snov Chrome extension, which allows you to find someone's email address on a site.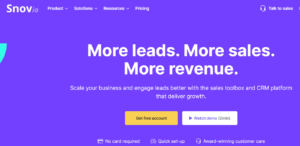 You can create triggers to get notified when someone opens your email. If a person opens your mail but does not respond, you may also set up an automated follow-up email. Finally, you can use the Domain Search Function to locate an email address associated with a specific domain name.
Pricing –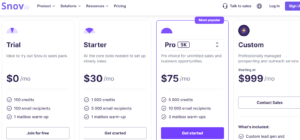 Small Plan: $29 month/user

Medium Plan: $49 month/user

Large Plan: $79 month/user

 Extra-Large Plan: $139 month/user
4. Woodpecker
Woodpecker is the most incredible tool for B2B enterprises that send out automatically tailored emails to potential clients. Woodpecker was created with cold email service and follow-ups in mind. Gmail, Office 365, and Exchange accounts can all be used to send out emails.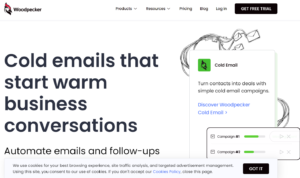 It works with Zapier, Salesforce, and various other business applications. They advertise themselves as one of the safest applications for automated campaigns. It's also ideal for teams who must cooperate, share contact lists, and blacklist domains. A/B testing, if-campaigns to send leads to various streams, manual tasks to incorporate non-email activities in the campaign, and snippet-based conditions for simple personalization and personalization are all available in Woodpecker. One of the advantages of using Woodpecker for Cold email services is that their software is constantly being improved and updated.
Woodpecker has also created a new pricing model that allows customers to pay the basic fee for each slot and only pay for additional features they utilize. Add-on services can be switched on and off, ensuring that you only pay for what you require, when you need it, and no more.
Pricing –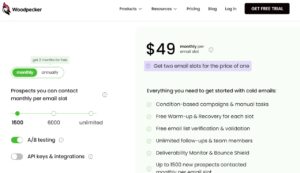 14-day free trial (includes all add-on functions)

50 Daily Contact Emails: $40 – $59 per slot/monthly, depending on add-ons purchased

200 Daily Contact Emails: $44–$64 per slot/monthly, based on add-ons selected

Unrestricted Contact Emails Per Day: $49 – $69 per slot/monthly, depending on the add-ons chosen
5. SMTPget
They offer one of the Best SMTP Services to our valued clients. The solution it provides includes SMTP, a simple mail transfer technology that allows you to send many emails at once. The protocol service is highly secure and safe for users. They distinguish themselves by maintaining a high level, and we make no concessions regarding client service.
The primary goal is to provide our customers with uninterrupted service. The service is fantastic, and much exceeds that of our competitors. They have a staff of incredibly competent individuals dedicated to providing the best service possible. With standard features, quality products, and service, SMTP is far ahead of the competition. 
SMTPGET provides the best Bulk email marketing Services for their client, and the network and protocol are straightforward to operate. There is no complication, and it is simple to use. Because they keep a standard security feature, the system is entirely secure. Yes, it moves quickly. When you use their services compared to others, you will notice it. There is natural quickness that meets the needs of their customers. They are also trustworthy, and you may put your trust in them completely. They maintain a standard that they strive to uphold, which makes them reliable. Finally, it is their concern for their clients that distinguishes them. They don't just let things go when they can but go above and above to ensure that our client's needs are met.
Pricing –
Trail SMTP plan – 3 days $30

 Standard SMTP – $99/ month

 Premium SMTP – $149/month

Professional SMTP – $199/month
7. Reply
A reply will take your business outreach to the next level as it is one of the best cold email marketing software. Using this dashboard, you may create an email strategy with follow-ups and then conduct split tests to increase your conversion rate through SMTP Service Provider.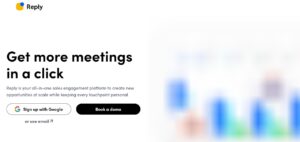 Cold email marketing campaign data and indicators, including link clicks,  bounced emails, delivery, open rates, etc. You can exclude particular people from your automated email queue depending on their activities. It also allows you to create personalized email campaigns.
 Pricing –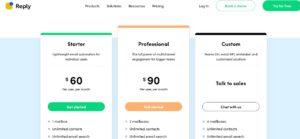 User to connect 1,000 people  $55/month

User to Connect  3,000 people  $70/month

User to Connect 30,000 people  $90/month
8. Autoklose
Because AutoKlose automates the whole of your email tasks, you can identify, target, and cultivate your prospects with ease. Drip email campaigns, lead creation, and CRM connection are just a few of the fantastic things that AutoKlose offers. You can indeed send many emails at the same time.

You can also use their follow-up tool to turn frigid emails into warm communications. The application categorizes your contacts into cold and warm folders based on your email conversations. AutoKlose is compatible with a variety of email platforms as well as Salesforce.
Pricing –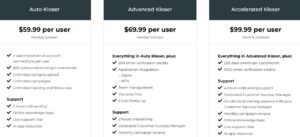 Starter: $59.99 user/month

Small Business: $69.99 month/user

Enterprise: Custom Pricing
9. Uplead
You should consider UpLead if you've been looking for a robust and trustworthy B2B sales intelligence platform but have been dissatisfied with leads that go nowhere.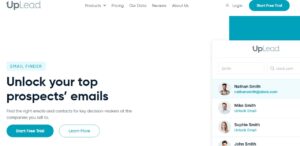 UpLead's database contains more than 54 million B2B contacts, allowing you to link with highly qualified prospects easily. You may also utilize the information to update and enrich your existing lead database, locate leads based on their CRM, and check their contact data in real time. You'll be able to spend time selling to clients and less time seeking them in this manner. And, unlike many other lead generation solutions, Up Lead guarantees 95 percent data accuracy, so you can rest assured that you're not contacting prospects with outdated information.
Pricing –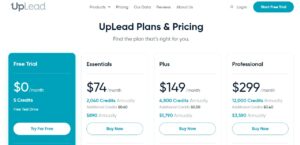 Free Trial: $0 (5 credits)

Essentials: $74/month (2,040 credits) 

Plus: $149/month (4,800 credits)

Professional: $299/month (12,000 credits)
10. Outreach
The outreach comes in the list of the best cold email marketing software. A fully-featured platform that streamlines the job of your sales force. It is among the most critical applications for salespeople because it helps to make calls to various regions , nations and cold email-sending service.
They also have a Text message integration tool that allows you to call your potential consumers. It also gives you further information about your prospects, allowing you to deliver more personalized emails. While outreach has the most features, it also has the highest price.
Pricing –
On their website, you can inquire about pricing.
11. Hunter.io
Hunter.io is a web-based mass email Sender verification and research platform that serve organizations in collecting and verifying professional email addresses.
Hunter.io's cold email-sending campaign functionality is likely not its strongest suit, given that it was only recently launched on the site. Hunter.io, on the other hand, is your best bet if you're searching for an all-in-one answer for any cold outreach efforts. Hunter.io Bulk email Sender allows you to cover and verify emails from your target audience in seconds and discover hard-to-find contact info from your prospects, allowing you to tailor your campaigns and increase the results of your outreach activities. Hunter.io is a must-have tool before your next cold email campaign if you're in the B2B industry. If you don't need any advanced email automation tools and already use Gmail, you can leverage their campaigns feature to get an all-in-one service. We've got you covered, from locating emails to transforming them into customers.
Pricing – 
Free Version: Yes 

Starter: $49/Month

Growth: $99/Month

Pro: $199/Month

Enterprise: $399/Month
Conclusion 
One of the significant lead generation channels is email marketing. When you merge your experience with the cold email software outlined above, your campaigns will be a success. You can use the best Bulk email Sender for your business to make your work easier and faster. Test and select the tool that meets your needs and resources.