Email remains one of the most effective means of communication for businesses. Amazon Simple Email Service (Amazon SES) has been a popular choice for sending bulk and transactional emails due to its reliability and scalability. However, exploring Amazon SES alternatives is a smart move to ensure you're making the best choice for your email delivery needs through SMTP Service Provider.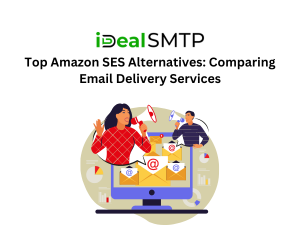 Check out our best Prices:-
Introduction
Amazon SES has served countless businesses well, but it's essential to consider other options to meet specific requirements. This article will guide you through the top Amazon SES alternatives and help you make an informed decision.
What is Amazon SES?
Amazon SES is a cloud-based email-sending service that enables businesses to send marketing and transactional emails at scale. It provides a cost-effective solution with robust deliverability, allowing you to reach your audience effectively.
Why Consider Alternatives?
While Amazon SES Alternative is a strong choice, there are several reasons to explore alternatives to Amazon SES:
Pricing: Pricing structures vary among email delivery services, and you may find a better deal.
Features: Different providers offer unique features that cater to specific needs.
Deliverability: Ensuring your emails reach the inbox is crucial, and not all services have the same deliverability rates.
Integration: Compatibility with your existing systems and tools is vital for seamless operations.
Ease of Use: User-friendly interfaces can save time and reduce complexity.
Support: Exceptional customer support can make a significant difference when facing issues.
Security: Protecting sensitive data is paramount, so evaluating security features is essential.
Criteria for Evaluating Alternatives
Before we dive into the comparisons, let's establish some criteria to assess the Amazon SES alternatives effectively. These factors will help you make an informed choice:
Comparison Factors
Pricing:

Analyze the cost structure, including pay-as-you-go options, and any hidden fees.
Features:

Explore the range of features offered, such as email templates, automation, and analytics.
Deliverability:

Buy SMTP Server

that

Looks into the email delivery rates and tools available to improve deliverability.
Integration:

Check compatibility with your existing systems and third-party apps.
Ease of Use:

Evaluate the user interface and the learning curve for each service.
Support:

Consider the availability and responsiveness of customer support.
Security:

Assess security measures, including encryption and authentication.
Now, let's compare the top Amazon SES alternatives based on these criteria.
Top Amazon SES Alternatives
SendGrid
Special Features:
Advanced Analytics:

SendGrid offers in-depth analytics, allowing you to track email performance, engagement, and user behavior.
Email Templates:

It provides a library of customizable email templates, streamlining the email creation process.
Marketing Campaigns:

SendGrid supports marketing campaigns, making it an all-in-one solution for both marketing and transactional emails.
Mailgun
Special Features:
Powerful APIs:

Mailgun

alternatives of Amazon SES

are known for their developer-friendly APIs, enabling custom email integration and automation.
Email Validation:

It offers real-time email validation to reduce bounce rates and improve deliverability.
A/B Testing:

Mailgun facilitates A/B testing of email campaigns for optimization.
SendinBlue
Special Features:
Marketing Automation:

SendinBlue Amazon SES alternative excels in marketing automation, allowing you to create workflows and nurture leads.
SMS Marketing:

In addition to email, it supports SMS marketing campaigns, providing multi-channel engagement options.
CRM Integration:

SendinBlue integrates seamlessly with popular CRMs, enhancing customer relationship management.
Digitalaka
Special Features:
Comprehensive Email Marketing:

Digitalaka Amazon SES alternative offers a comprehensive suite of email marketing tools, including automation and analytics.
Customer Segmentation:

It enables advanced customer segmentation for targeted email campaigns.
Multi-Channel Marketing:

Digitalaka

SMTP relay service provider

supports multi-channel marketing, integrating email with other communication channels.
Postmark
Special Features:
High Deliverability:

Postmark specializes in high deliverability rates for transactional emails, ensuring critical messages reach the inbox.
Email Tagging:

It offers customizable tags for organizing and categorizing emails for easy tracking.
Developer-Focused:

Postmark provides a developer-friendly environment with detailed documentation.
MailerLite
Special Features:
Drag-and-Drop Editor:

MailerLite Amazon SES alternative features a user-friendly drag-and-drop email editor for easy email creation.
E-commerce Integration:

It integrates smoothly with e-commerce platforms, enhancing your online sales efforts.
Subscriber Management:

MailerLite simplifies subscriber management with segmentation and tagging options.
Moosend
Special Features:
Marketing Automation:

Moosend offers advanced marketing automation workflows, making it suitable for complex campaigns.
Personalization:

It provides robust personalization options to tailor emails for individual recipients.
E-commerce AI:

Moosend uses AI to optimize e-commerce-related emails, such as abandoned cart reminders.
SMTPget
Special Features:
Affordable Pricing:

SMTPget

alternative to Amazon SES

offers competitive pricing, making it budget-friendly for businesses of all sizes.
User-Friendly Interface:

It features a straightforward and intuitive interface for easy email management.
Delivery Notifications:

SMTPget provides real-time delivery notifications for your emails.
iDealSMTP
Special Features:
Secure Email Delivery:

SMTP Relay Services

prioritizes secure email delivery, ensuring data protection and privacy.
SMTP Relay:

It serves as a reliable SMTP relay service, facilitating seamless email sending.
Customer Support:

iDealSMTP offers responsive customer support for troubleshooting and assistance.
These special features distinguish each alternative, catering to various business needs and preferences. When choosing among these Amazon SES alternatives, consider which features align best with your specific requirements.
Pricing
When comparing Amazon SES alternatives, pricing is a crucial factor to consider. Here's a deeper dive into what you should look for when assessing the cost of these services:
Pay-As-You-Go vs. Subscription Plans
Many email delivery services offer a pay-as-you-go model, where you are charged based on the number of emails sent or other usage metrics. This can be cost-effective for businesses with variable email-sending volumes.
Tiered Pricing
Most email delivery services have tiered pricing plans. These plans typically offer different levels of features and resources based on your needs. Consider the scalability of each plan. 
Hidden Fees
While the advertised pricing might seem attractive, it's essential to read the fine print. Some services may have hidden fees or additional charges for certain features or usage that can catch you off guard.
Email Volume Pricing
Take a close look at how each service charges for email volume. Some Amazon SES Alternatives provider offers discounts for sending higher volumes of emails, which can be advantageous for larger businesses.
Free Plans or Trials
Many Amazon SES alternatives offer free plans or trials with limited features or email volume. These can be an excellent way to test the service before committing to a paid plan.
Overages
Check the pricing structure for overages. If you exceed the allotted email volume or resource limits in your plan, how are overages charged? Understanding Amazon SES alternatives this can help you manage your costs and avoid unexpected expenses.
Discounts for Nonprofits and Educational Institutions
Some Amazon SES alternatives email delivery services offer discounts or special pricing for nonprofit organizations and educational institutions. If you fall into these categories, inquire about any available discounts, as they can significantly reduce your email marketing expenses.
Payment Options
Consider the payment options provided by each Amazon SES alternative service. Do they accept major credit cards, PayPal, or other payment methods that are convenient for your business? Also, check if there are any discounts for annual or upfront payments.
Value for Money
Ultimately, it's not just about finding the cheapest Amazon SES alternatives service; it's about getting the best value for your money. Evaluate the features, deliverability, support, and reliability offered by each alternative in relation to their pricing.
Deliverability
Deliverability rates can impact your email marketing success. Look for services that have a strong track record of reaching the inbox.
Integration
Check if the Amazon SES alternatives integrate seamlessly with your CRM, e-commerce platform, or other essential tools. Compatibility is key for efficient operations.
Ease of Use
Consider the user interface and the ease with which you can set up and manage your email campaigns. A user-friendly platform can save you time and effort.
Support
Exceptional customer support can be a lifesaver when facing issues or needing assistance. Alternative to Amazon SES prioritizes services with responsive and helpful support teams.
Security
Amazon SES alternatives protecting your data and your recipients' information is vital. Ensure that the chosen alternative implements robust security measures.
Conclusion
Choosing the right SMTP Server for Email Marketing service is a critical decision for your business. While Amazon SES alternative is a reliable choice, exploring alternatives based on pricing, features, deliverability, integration, ease of use, support, and security can lead to improved email marketing results. Consider your specific needs and priorities when making your final decision.